After a pleasant pause, I went on an adventure up la Soufriere, a volcanic mountain with a tropical forest. It was a spontaneous morning-of decision. I nearly died! Here are some scattered notes.
=
=
Finally, for the first time after my ride out of town, my foot feels better. I had stepped on some sharp plant. Now I feel like I can walk on both feet again, at least somewhat better.
I feel like it's been a topsy-turvy while.
I suppose I often feel that way, in part due to my emotions and in part due to events.
I'm becoming increasingly anti-noise as I age.
I have to leave this place by the end of the week (there's another guest who reserved the place over the weekend). I'm not yet sure exactly when I go.
Next, down to the nearby town. Then, probably take some ferries to other islands in Guadeloupe.
I'm thinking of seeing some but not all of the islands, then taking the ferry to the next country, Dominica!
I don't want to go there until the Coronavirus is over, however.
Maybe a waiting game, to see how long until it's normal to cross international borders again.
I think I'm feeling much better in body & mind without coffee, or much sugar, acid, and other such stuff. I feel calmer throughout the day, happier. Instead of spikes.
I'm going for more consistent work.
A huge blister on my foot from where I stepped on a sharp plant, finally broke!
=
Things not working out.
Two Airbnbs failed.
Phone and laptop not working, perhaps due to overheating.
=====
Laptop seems to work!
=====
My old phone seems dead. I think I broke it while trying to charge. I was using it as my exposable phone with a bunch of installed stuff. I managed just to sync the photos and videos. Probably some voice notes and other stuff that didn't get backed up. Not a big deal, I already have another phone that actually works here!
=
Bike basically works! A reflector fell off, which I kept, which I'll see if I can reattach. A sticker came off. The seat fell off. I didn't have the exact right tool to fix it. I collected the seat as we packed up things for the last effort back, but it fell out of a hole in the bag. Not that big of a deal, it was uncomfortable anyways.
=
Kontan wè zot
(Glad to see you)
=
Got my life back!
=====
=====
Some chocolate survived! Also I think some peanuts that some people gave me, and a few other foods. I think some other chocolate and other foods fell out of the bag on the way back down.
=
People often complain about hospital food. At the hospital in the French Caribbean, the food was mixed. There were some delicious green beans. Also, some large root vegetables whose name I don't know (ñame?). There was some grated food that I couldn't definitively identify (cabbage?). The salad dressing tasted like it may have been expired. There was some delicious gouda cheese and butter! Also some tasty rolls. There was a pasta dish, which I think was their take on mac & cheese, which was quite disappointing. Also, some yogurt, cherry jam, and water. All in all, quite tasty!
=====
My glasses seem even more scratched up than before. I think from trying to clean them with various materials and probably scratching the lenses with small rocks. Not that big a deal. I'm in the process of working on the replacements (Eagle Eyes Goggles) anyways!
=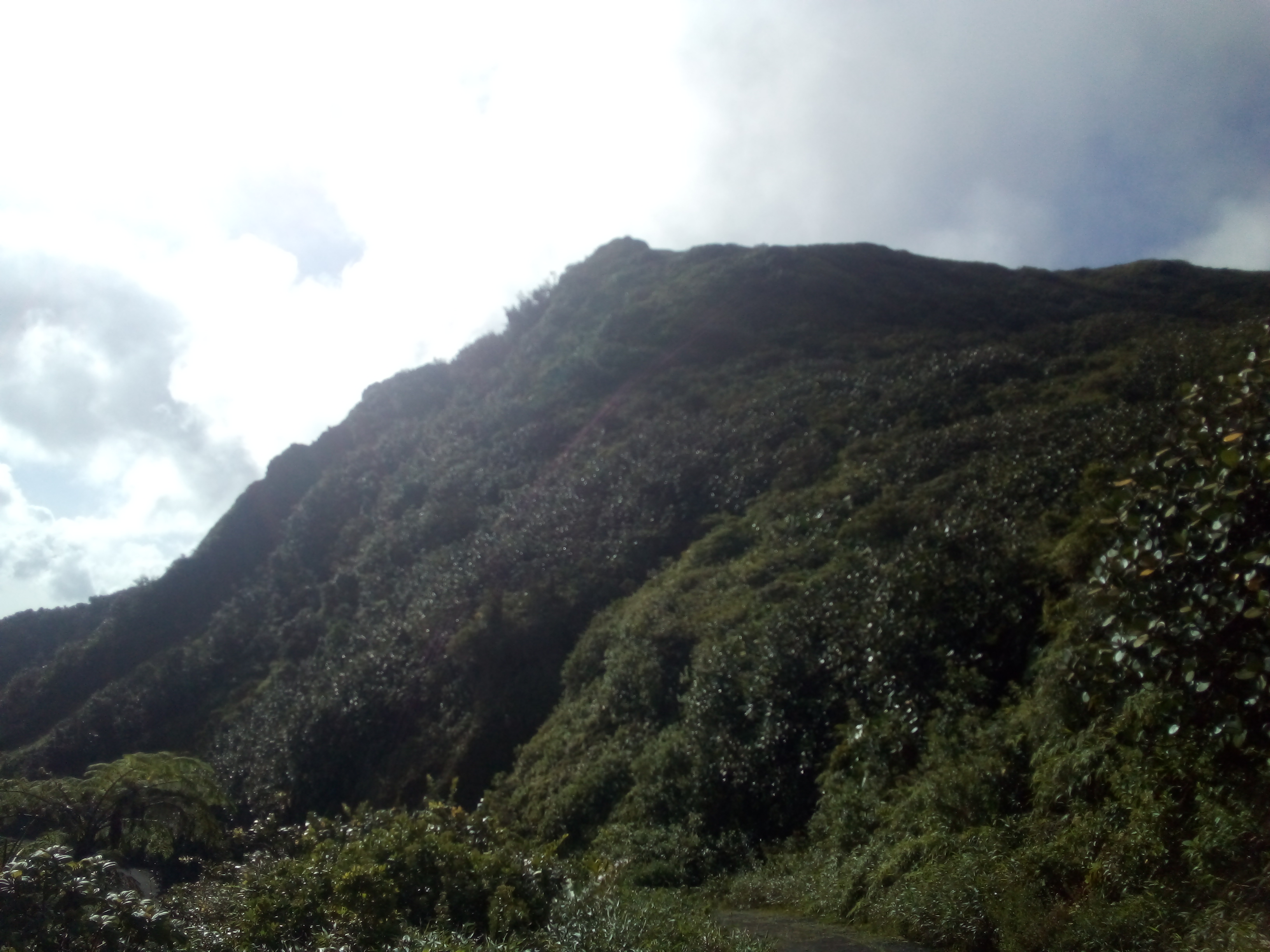 I'm extremely thankful to have made it. As harsh as it was, and costly, at least I survived. I'm aiming to be smarter and stronger going forward. Fewer crazy mountain chances. A few weeks or months of more serious work and less travel. Recuperate!
=
The mountain is called la Soufriere - appropriate name!
=
Food never tastes so good as when you're hungry! Like, after several days up a tropical forest volcano, in the rain, working hard, with not enough food!
=
Feels great to get back down to Earth!
=
I like things more now, and am feeling more tolerant. To a large extent I think those effects wear off the farther one gets from a life-or-death experience. Still, something to appreciate!
=
Right now there's a palm tree under the light blue sky and white clouds. Looks beautiful!
=
I'm excited to spend a while resting, getting better.
=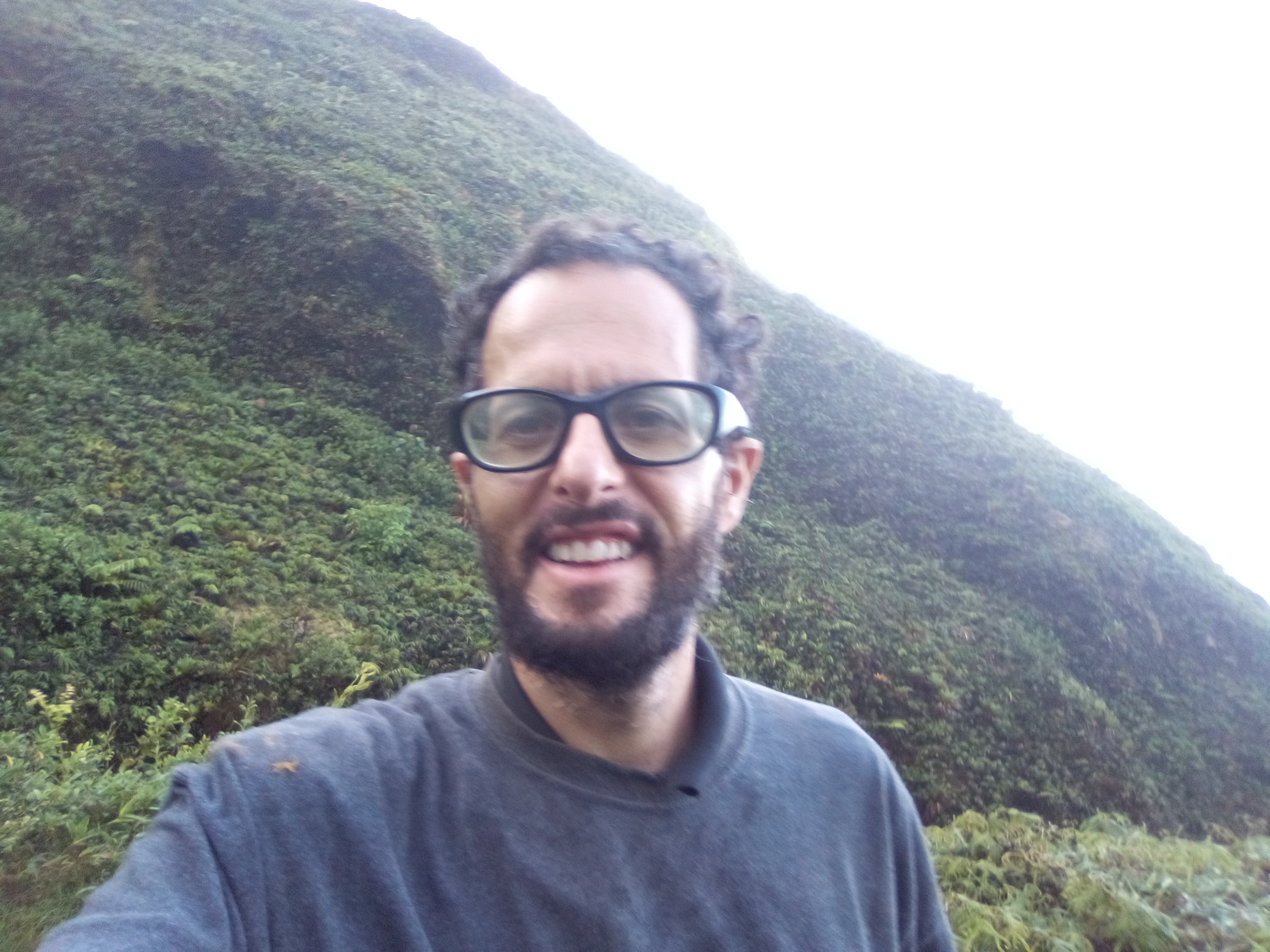 =
Seems like everything that could have gone wrong, did. Almost. I cut myself, the bike fell apart, the rain came (making things much more difficult as I became progressively waterlogged), the GPS and charging port on my phone failed.
=
No serious injuries, thankfully!
I have some chafing on my arm, from wet clothing rubbing against my skin. I have a somewhat deep cut on my index finger, from grabbing an open sardine can while reaching for food (I wanted to carry back all my garbage, so I still had the can). My feet are sore from walking, as is most of my body from pushing and pulling stuff.
=
I was taking some stuff a few meters (around ten to a hundred), then returning for more, then more. Scrambling through the trees, up and down cliffs that often seemed too hard. As my stuff took on more water, it became heavier, and I had to take fewer things. Also, I sometimes went ahead on scouting missions, to see what was ahead. By the worst of it, I was doing like nine trips over each part of the path. Getting to know it better! Each time felt somewhat more familiar, but still difficult.
At least I'm somewhat more diligent now!
=
A few times, including at the end, I think I wound up on wrong areas, walking along the river bottom instead of on a trail.
=
Kept going through much. Didn't realize I had some of those capacities in me. This ranks among the more difficult things I've ever done. In terms of psychological, physiological, and other considerations.
=
I'm in some pain, but it's the kind of pain that feels somewhat pleasant. You can almost relax into it, feeling the healing.
=
As I was on the way back, having decided that it seemed too dangerous to carry on, I got back to the river crossing. There, I encountered a group of guys who were coming from back where I'd started. They gave me a tasty sandwich, and offered assistance. After some talking, and after I'd lifted my stuff back up from the river onto the trail, I agreed to go with them. They disassembled the bike, each carrying part. In a rush, I left behind a few things, which were old and unnecessary anyways. We walked quickly back to the base. It took like an hour or so, to cover what would have probably taken me two days!
=
I guess I have some repairs and replacements to do, of my stuff and my body!
=
Even before going up the mountain, I was having problems. An Airbnb that I'd requested to book, turned out to be unavailable. I tried to reserve another, but it was also unavailable. Wound up camping out.
=
Now it's finally cool, would've been a nice weekend ride, but I think I need to rest up some more.
=
Things often go differently than one had planned. It's important to realize that our ideals and plans are just that, and do not reflect how things will actually transpire. As such, we have to respond to the situations as they unfold.
=
My glasses are so scratched up that I can hardly see through them. Just put on my backup pair, some glasses from a few years ago. I can see again!
=====
I think it's important to move on.
A couple of years ago or so, when I was considering whether to leave Miami for the Caribbean islands, I felt unsure for a while. Looking back several times over recent months, I've consistently felt glad to have left. As much as I often miss Miami, I'm happy to see these other places. I think that the experiences have been worth the sacrifices!
=====
Some lessons:
Find ways to survive!
Work with other people!
Carry backups!
=====
Looking back at some photos and videos, that was quite scary!
====
Along the way, many people told me that it was impossible. Also, many people wished me "courage", which is a common thing to say here. Maybe stupid to do these activities, but also rewarding!
=====
The volcano at the top was closed off, because of toxic fumes.
=====
There was a sulphur smell. On the way back, I was so hungry that it reminded me of eggs and made me want to eat!
=====
I'm again humbled by an adventure!
=====
So many things to do!
=====
Keep on going!
=====
In the ambulance, when I asked not to receive the blood sugar test because I dislike needles, the paramedic issuing it noted that I'd just come down from days in the mountain in much worse conditions, but was afraid of a small needle! Funny but true.
=====
Hard to describe how great it feels to get back into a safe hotel after just about dying!
=====
Now for a break!
=====