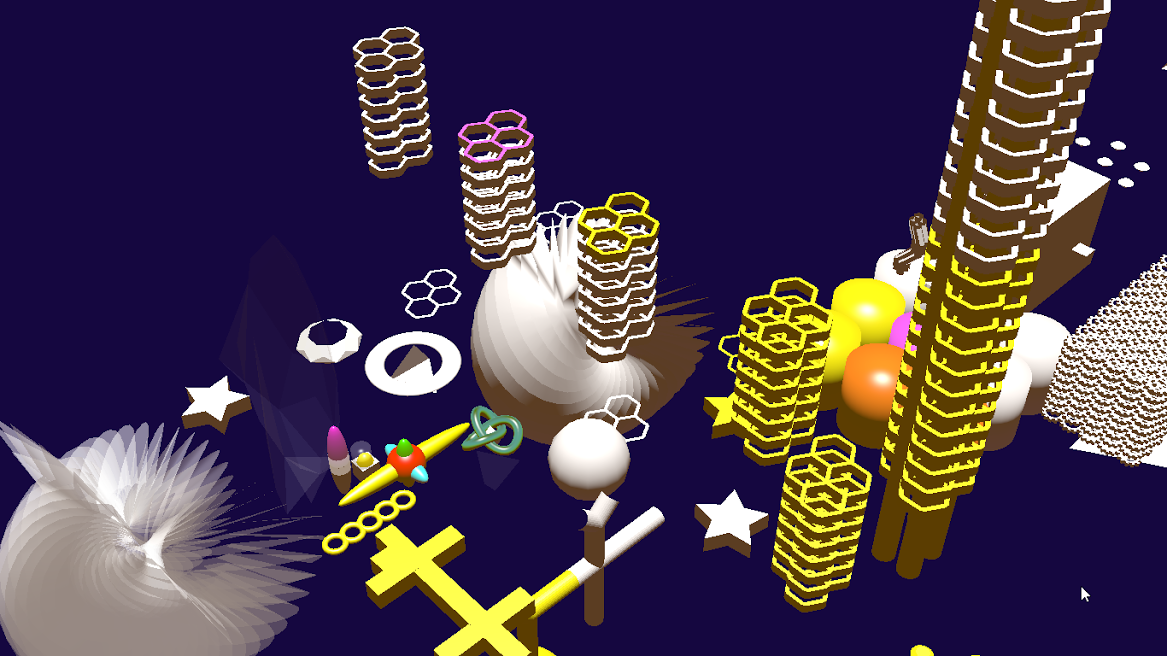 LifeFLOW3D Digitarium lets you play with moving software creatures, as they float about and explore their lush environments. Download and play at GameJolt! Project page at GitHub.
Soundtrack at SoundCloud.
LIFE: The evolution of flow! from LifeFLOW.
The Player's Guide - Frequently Asked Questions (FAQ)
WHAT IS LIFEFLOW3D?
LifeFLOW3D is a fun game that is sort of like a garden or aquarium, but on your computer.
WHY SHOULD I PLAY LIFEFLOW3D?
HOW DO I PLAY LIFEFLOW3D?
First of all, load up the game file. When you see the main menu, you can practice steering a sample block around by using the arrow keys (up, down, left, right). Easy!
Next, you can go into any of the levels, where in addition to the basic steering mechanism you also get some more complex options…
Press any of the number keys from (1-9) to go to one of the levels. Here, you can continue using the arrow keys, enter, space, page up and page down, and experiment with the letter keys (a-z) to achieve different results. From any of the different levels, you can also return to the main menu by pressing "ctrl-m".
In the bigger picture, as you manipulate the digital creatures in the LifeFLOW3D world, they will continue to change and move about. You play the game by modifying the creatures and their environment, and observing the results…
WHAT IS THE GOAL OF LIFEFLOW3D?
Like in life itself, there is no single explicit goal in LifeFLOW3D. Think of it as a free-form game in which you make the rules and play by them - or break them! Does a garden or aquarium or insectarium or terrarium have a single explicit way to win? Of course not! The goal is to have fun and learn. As you cultivate life forms -- whether fish or insects or plants or bits -- you get the joy of watching them grow and change shape in response to your actions! What more could you want in a game than that?
HOW DO YOU WIN?
You win by playing! :)
Contributions
HOW CAN I CONTRIBUTE TO LIFEFLOW3D?
Thank you for your interest. We welcome your contribution whether 3D art, game logic/physics, design, documentation, monetary, or however you feel best able to contribute. Please send an e-mail to eagle@eaglegamma.com, describing your interest, and we will find a way forward!